Summary of the
year
In 2020 KGHM was one of few companies in the industry to overcome the macroeconomic crises, achieve the assumed goals and close the year with a satisfactory financial result. The corporate strategy for 2019-2023 and the involvement of employees in its implementation, sanitary discipline, flexibility in decision-making – all these factors impacted our performance level. Today, we can be proud of our excellent results in the areas of finance, development, environmental protection or power generation, and most importantly, in safety and prevention of the effects of COVID-19.
Global player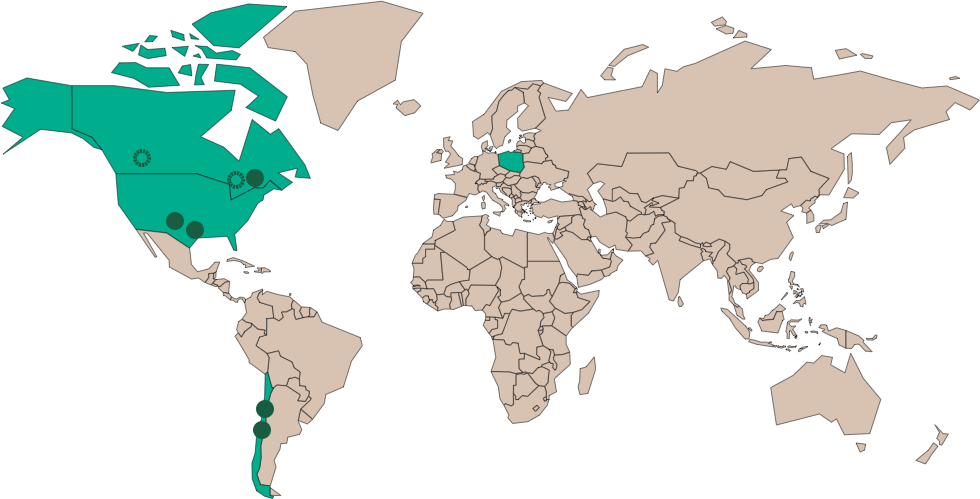 The KGHM Polska Miedź S.A. Group holds geographically diversified mining assets (mines of copper ore and accompanying elements, such as silver, molybdenum, nickel, gold and other precious metals).
Key results
Since the outbreak of the pandemic, there have been no production downtime in KGHM Polska Miedź S.A. or in any of the Group's foreign mines. In the segments of KGHM INTERNATIONAL LTD. and KGHM Polska Miedź S.A. there was a slight decrease in production by 9.6 thous. t and 5.2 thousand. t of payable copper.
Production of payable copper [thous. tones]
EBITDA exceeded PLN 6.6 billion, which is 27 percent. more than in the previous year. KGHM recorded very good sales results in the Group. This translated into 4 percent. annual revenue increase to PLN 23.6 billion.
The idea of sustainable development, and in particular respect for the environment, is one of the most important principles determining the Company's activities.
Implementation
Strategy Areas